Date posted: February 27, 2013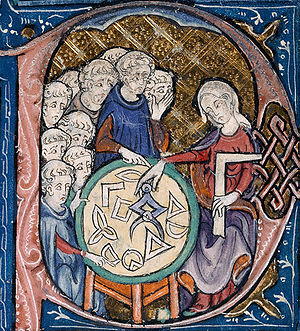 Woman teaching geometry, from Euclid's Elements. (Photo credit: Wikipedia)
In the 1990s, I did content creation work for a man named Max, a man considered by many to be the Father of Emulation Modeling.
I remember Max as a genius, working alone, who not only was a brilliant mathematician but also held a law degree for the express purpose of defending his software patents.
Recently he was brought back to mind when I read an interview with another Max, MIT physicist Max Tegmark, in an article published in Science Magazine. In that piece, titled "Do We Live in a Mathematical Equation?" Tegmark says it is not enough to say math governs our universe, but that reality itself is a mathematical structure.
"The beautiful mathematical regularities that have been uncovered have typically been unifications, where instead of having one mathematical description for this and a different one for that, we realize there's a single mathematical structure that encompasses all of it.," he says. "So for me, it would be a natural conclusion if everything could be unified, if there's a single mathematical structure that is our reality, and all of the mathematical structures that we've discovered before are part of this more beautiful whole."
In fact, he asserts, there's no evidence right now that there's anything at all in our universe that is not mathematical.
It seems that Tegmark is not the only one on this track.
Scientific theorists say if the universe is a numerical simulation, there should be clues to it in the spectrum of high energy cosmic rays.
In a post on the MIT Technology Review, researchers at the University of Bonn say there is a way to see evidence that we are being simulated, at least in certain instances. (This has to do with a number of things that got our heads spinning, like the problem with all simulations is that the laws of physics, which appear continuous, have to be superimposed onto a discrete three
dimensional lattice which advances in steps of time— and whether that lattice imposes any kind of limitation on the physical processes we see in the universe. Turns out it does, and that we could confirm or rule out the theory of simulation by further exploring something called the 'GZK' cutoff.)
At this point we were brought back to our Max— and some of the conversations I had that left me, well, grasping for meaning.
I imagine he'd say that emulation, not simulation, is more applicable to the universe.
Emulation is the process of mimicking the outwardly observable behavior to match an existing target. The internal state of the emulation mechanism does not have to accurately reflect the
internal state of the target that it is emulating.
Simulation, on the other hand, involves modeling the underlying state of the target. The end result of a good simulation is that the simulation model will emulate the target that it is simulating.
Enough! As Max used to end some of our sessions.
I'm left with the understandable thought that though I wasn't working for God, I was in some way doing God's work.