Date posted: November 23, 2012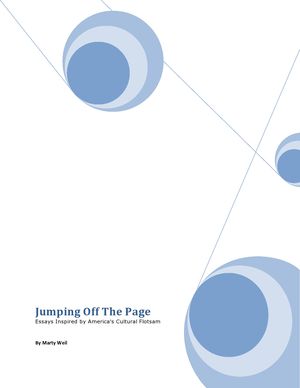 A collection of essays titled, Jumping Off The Page, is now available on the Amazon Kindle platform ($4).
Jumping Off The Page use ephemera as a portal to explore aspects of history and pop culture. Each of the three essays in the eBook begins with a piece of ephemera. The reader is taken on a journey—entered through the doorway of a single piece of paper—that brings the reader into contact with eccentric characters, interesting objects, and amazing places.
The topics selected for inclusion in the first volume of Jumping Off The Page essays include:
Springsteen: The Record Promotion, the Album, and the Rock Photographer
This essay explores the cultural impact of the album and the controversy surrounding the title track of Born in the USA, which was misrepresented by Ronald Reagan during the 1984 Presidential Campaign, as well as the controversy surrounding the cover photograph (an alternative cover photo was used on this rare promotional item). It also touches on the career of legendary rock photographer Annie Leibovitz, who took these iconic photographs of Springsteen.
The Catalog, the Gun Maker, & the Lincoln Park Traps
In 1914, The Charles William Store offered the most progressive mail-order catalog in the country. This essay discusses how the catalog brought the sophistication of New York to Middle America, while exploring the history of the L.C. Smith guns and the unique sports facility on Chicago's lakefront, The Lincoln Park Traps, where they were used.
The ID Card, the Order of the Carabao, and the Two Hellers
An identification card, hand-signed by Colonel Joseph M. Heller, who was the 1929 Grand Lead and Wheel Carabao, entitled the holder—Rear Admiral
Norman M. Smith—to socialize and cajole with the elite in the U.S. Arms Services. Smith was a member of The Military Order of the Carabao, one of the most unique organizations associated with our nation's military history. Originally conceived to satirize the pompous Order of the Dragon, the lampoon organization quickly became a serious society of military elites, which included a very unlikely leader in 1929. This essay discusses the Order and Heller's epic career from civilian doctor to Jewish war hero to Grand Paramount Carabao. In an ironic case of two important men who share the same name but have diametrically opposite worldviews, the essay also showcase the Colonel's famous namesake, Joseph Heller, the authored one the 20th Century's greatest satirical, anti-war literary achievements.
The inspiration for this project comes from Weil's interactions with the thousands of individuals who visit his popular ephemera blog, who have responded enthusiastically to his presentation of history inspired by vintage pieces of ephemera.
To download your copy of Jumping Off The Page eBook, click here.