Date posted: November 29, 2010
I'm developing a series of software buyer's guides for Managing Automation Media Research Services. The second guide, covering Manufacturing Execution Software (MES), is now available online.
I'm extremely pleased that the editors at Managing Automation have entrusted me to create these wonderful, helpful guides. For buyers of automation and enterprise software, there are very few comprehensive, readily available guides of this type. Managing Automation should be applauded for filling this void in the industry.
In the coming months, I'll share addition guides as they are published.
Date posted: November 22, 2010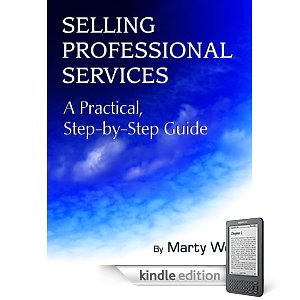 Selling Professional Services: A Practical, Step-by-Step Guide was published today and is exclusively available for Amazon Kindle users.
My eBook equips B2B professional service providers with a system to build a portfolio of clients. The eBook provides step-by-step instructions, not a magic bullet. By following the steps in the guide, B2B service providers will be able to acquire new accounts, even during difficult economic times.